Welcome to your
brave & beautiful life
"One life is all we get … we are fools if we do not live it as fully and bravely and beautifully as we can."
~ FREDERICK BUECHNER
Having spent my career guiding people through death in a literal sense, now my deepest work is as a coach and trusted advisor to high level professionals going through your own spiritual death experience. No matter what kind of transition brought you here, maybe the end of a relationship or a job, an illness, the loss of a loved one, or the awareness that you've been living for everyone else and it's time to come home to yourself while you still can, this spiritual death is an opportunity. This is holy ground.
With each death comes a merciful rebirth.
I'm here to help you discover what you really want and how to create it. How to discover more meaning and purpose so you can live this chapter of your life fully, bravely, and beautifully … no matter the circumstances.
It's time to create the life you really want. Your very own brave and beautiful life.
Coaching
Like me…
You might be successful on the outside and yet still playing small in some way, still holding back some of your true self, afraid to go after the life you really want, afraid of how big you really are.
You may be going through something difficult, trying to hold it all together. Maybe even hiding your struggles from public view.
Maybe you have years of practice taking care of everyone else, constantly putting others before yourself, and there is still more living you want to do.
You want to grow through your challenges. You want to walk through this season with an openness to what it's here to teach you, and you need a guide who is a few steps ahead of you on this path.
You are ready to hand over your worry, burdens, sorrow, fear, pain, and loneliness, transforming them into fertile soil for the life you know is possible, deep in your soul.
Coaching is the best path to creating the brave and beautiful life that you've always dreamed of. It's about integration … taking all of the parts of you and your story, the joys and the sorrows, and weaving them together to explode the level of joy, gratitude, and wellbeing you have in your life. Using every adversity as a catalyst to become your best self and create your best life. 
After more than 20 years as a successful businesswoman and nearly as many as an entrepreneur, I understand the challenges of leadership and business. I'm also intimately acquainted with the beauty and the agony of real life. 
Life is inviting you to embrace the full range of the human experience, that's what living fully looks like. It means feeling all of it, the outrageous joy and the darkest sorrow, the pleasure and the pain, the agony and the ecstasy. When we push one away, we can't fully feel its opposite.  
This is your story. You're not the victim, villain, or the hero … you're the storyteller. How do you want to write the story of this season of your life?
If this speaks to you, if you're ready to explore what's here for you in your current challenge or transition, then apply for a discovery call. I'd love to support you.  
"I'm working on my own life story. I don't mean putting it together; no, I'm taking it apart."
~ Margaret Atwood
Speaking & Workshops
There's nothing more powerful than a speaker who can connect with your group at a deep level. One who can take them on an emotional journey and show them the way to experience more of what they really want.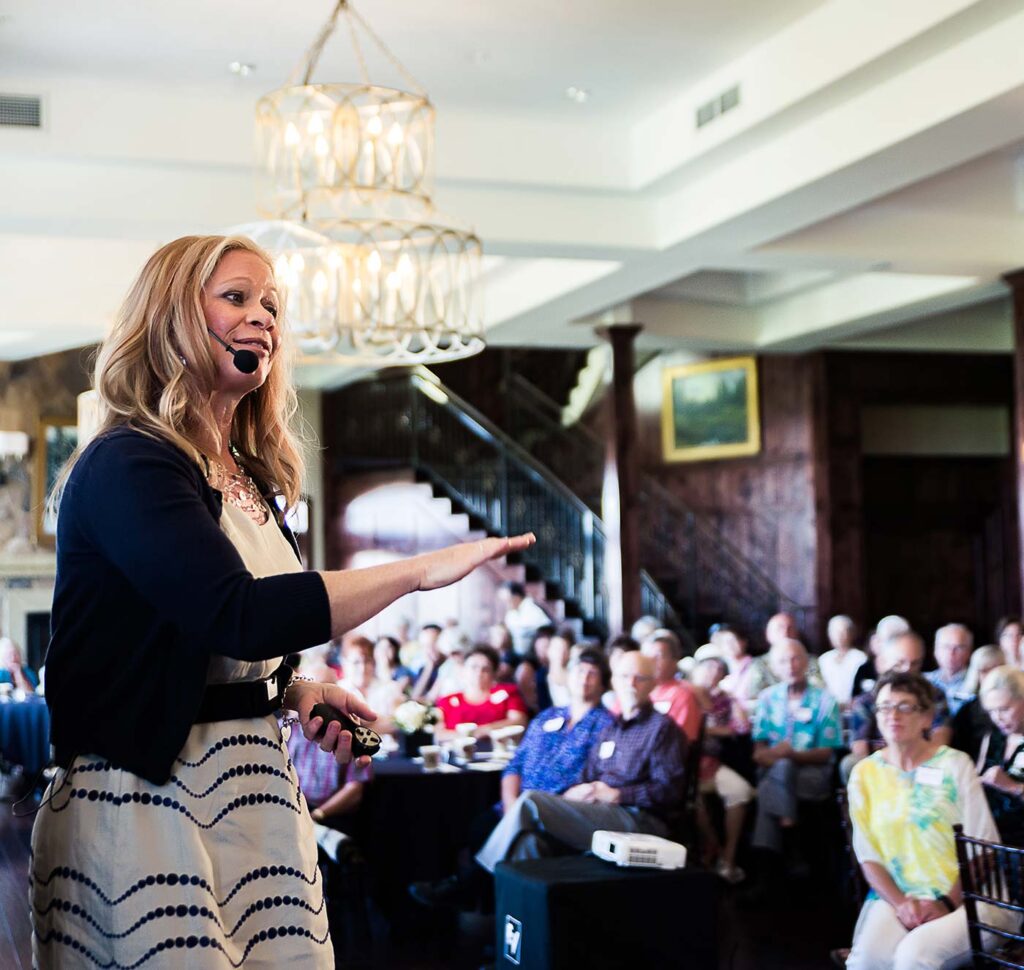 I've spoken to hundreds of groups and the feedback has been consistent:
"I cannot begin to tell you how amazing your presentation was today. I was literally holding back giant sobs, it was so moving and touching and perfectly perfect! It was the most beautiful balance of truth and inspiration and love and strength and HOPE! I am crying again just thinking about it. Congratulations – that will forever live in the memories of every person who was there."
~ S. Schmidt
"That was beautiful, and powerful and hopeful and eloquent and world changing – I feel so grateful to have experienced it."
~ E. Alani
I would love to speak at your next event and empower your people to find hope no matter their circumstances.
Speaking/Workshop Topics
Here are some of my most popular topics. I can tailor any talk or workshop to the needs of your audience.
Finding Hope When Life is Hard


How do you hold onto hope when you lose a loved one, go through a divorce, encounter a business struggle, care for a loved one who is progressing through a tough disease, or get a scary diagnosis yourself? In this workshop, we'll examine the nature of hope and consider new possibilities about how to find the light, even when it's dark.

Fundraising Keynote: Sharing Hope


In this compelling presentation, I share my story in a way that touches hearts and moves people to join in supporting your cause. The original version inspired supporters of a well-known non-profit to give more than double their financial goal. Tailored stories and focus will create a deeper connection with your supporters, creating an event that will be remembered for years to come.
Other topics:
Illness & Hope
Aging & Hope
Caregiving & Hope
Loss & Hope
Success & Hope
Failure & Hope
Modern Estate Planning
Join the hope(less) Movement
Stay connected to this brave and beautiful community.  You'll receive news, updates on my upcoming book, and inspirational content.
Thanks for joining the movement! Please check your inbox for hope-ful content and updates on my upcoming book.
We promise not to spam you. You can opt out at any time.